Reef Kabob Main Chef and his team have conjured an exquisite menu with dishes that'll amaze all your tastebuds. Along with an array of fresh meat, succulent seafood and classic appetizers and a huge collection of sandwiches waiting to be discovered.
We serving the most Delicious Juicy Halal Meat which prepared with love to meet you taste by Reef Kabob Grill Cuisine.
Most delicious Middle Eastern foods
What do you got a taste for? chicken? meat? seafood? or vegetarian?
Reef Kabob offered a full menu to satisfy your needs.
FINE DINING EXPERIENCE
FRESH …
RIGHT FROM THE OCEAN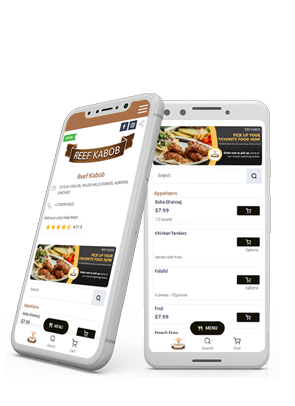 PICK UP YOUR FAVORITE FOOD NOW
Don`t feel like cooking today?
The Reef Kabob has been providing delicious food. Order now to pick up some of our mouth watering dishes.
Order Now from Reef Kabob
REEF KABOB offers deliveries through the following companies as well

- Online Order -

- Online Order -

- Online Order -